We are big fans of Amazon ES Service and have been using it for over a year in production with great success. We also have blogged about what we love about Amazon's ES offering. While all of that stays true even today - we were wishful in thinking that Amazon must be working on making the upgrades a bit easier.
Lastly, Amazon has been extremely proactive with regards to keeping pace with Elasticseach releases. At the time of this post, v6.2 is the most recent version for Elasticsearch and that's the same version available with Amazon. Please note that version upgrades are not available from the interface and need to be handled by manually taking a snapshot and restoring it to a new domain. I hope Amazon is working on making it a seamless experience as well. Unlike quite a few cloud offerings it's commendable to see that Amazon is making a conscious effort to offer the latest and the greatest.
Last month, Amazon launched a one-click in-place upgrade for their Amazon ES offering. This makes it upgrading to the latest version of Amazon ES a breeze. We went from 5.3 to 6.3 (from 5.3 to 5.6; and then 5.6 to 6.3) in a matter of hours.
Upgrade from 5.3 to 5.6


Upgrade from 5.6 to 6.3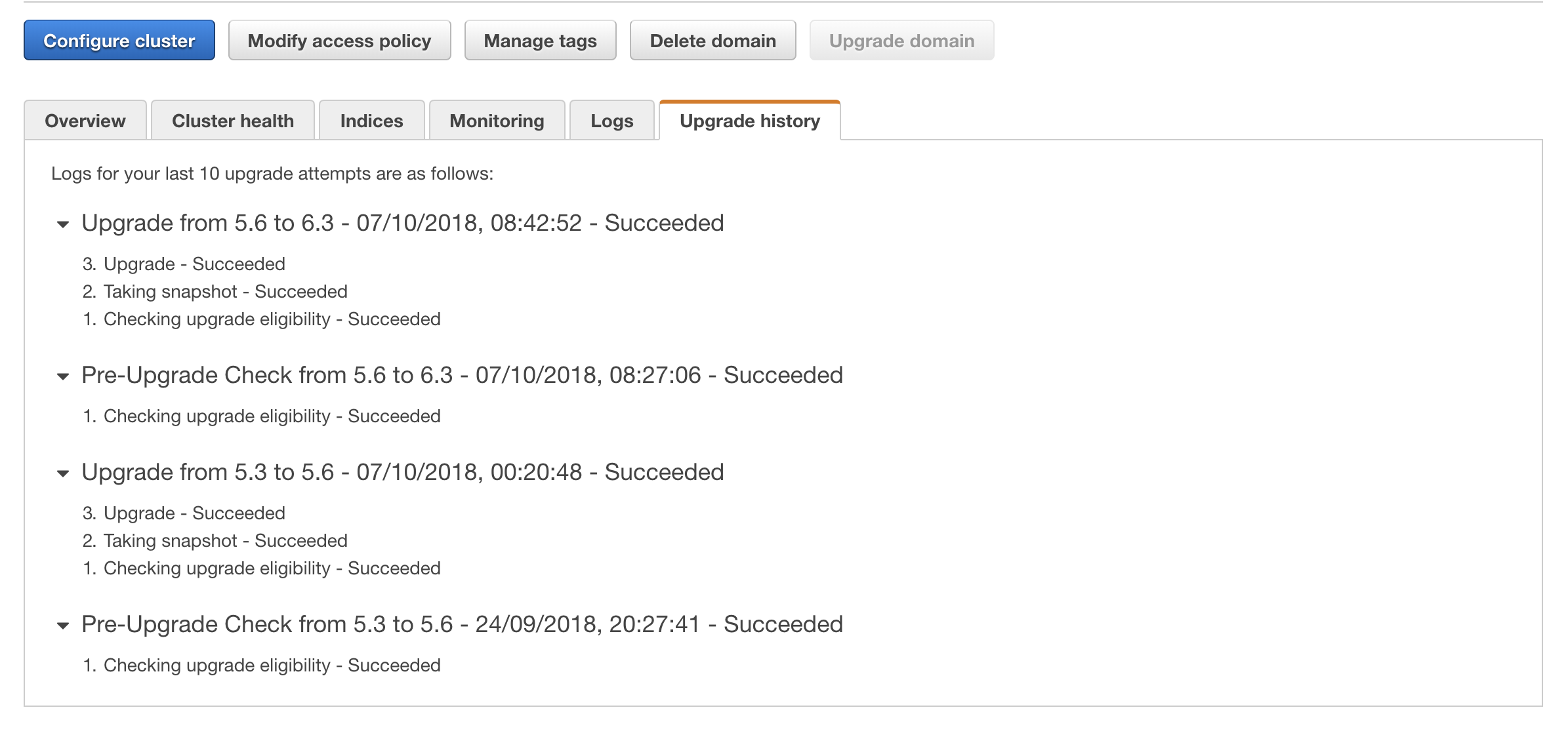 One thing to keep in mind while upgrading to v6.x is that multiple mapping types per index are no longer supported. This was an interesting trade-off we stumbled upon while we were modeling our indexes. We ensured that we don't use multiple types per index and it clearly paid off during the upgrade.
With this upgrade, we are looking forward to the performance improvements and also to try out the new goodness which was launched with Elasticsearch v6.x - composite aggregations.