In the second half of 2016 - we decided to migrate our multi-tenant app from bare-metal servers to Azure. While you can find numerous benchmarks for various cloud platforms - there are very few relatable drill downs on the thought process as part of such migrations to the cloud as is. More importantly, this was not just a migration - it was literally a war with all hands on the deck; keeping the existing usage, client data and growth intact we were able to migration over 1.4TB data and existing clients to the cloud successfully.
This is how we declared WAR


Finally, we emerged as winners post the last tenant migration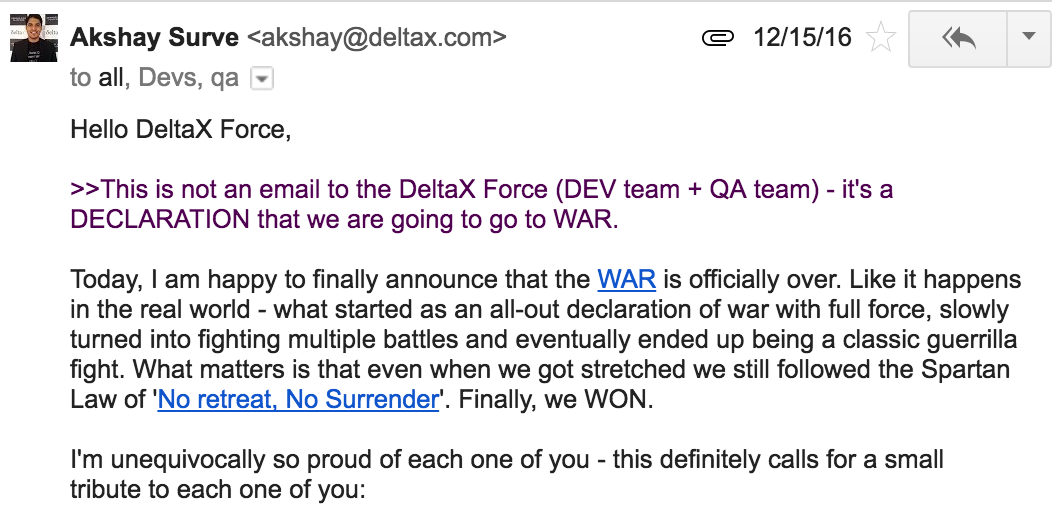 I knew this story needed to be told. I got an opportunity to talk at the (Software Architects Bangalore meetup)[https://www.meetup.com/SoftwareArchitectsBangalore/events/237117024/] and share this journey with the larger community. Here are slides from the talk:
The overall response and feedback post the talk was humbling - everyone was amazed at what we were able to achieve.
So, here is my humble request to the team
If I look back at our journey, we have recovered from massive failure; seen through classic disasters and built innovative and meaningful solutions. While we are moving mountains, working on disaster recovery or building that fancy little new feature; let's share our story on this blog.